Hands to Serve at Christ Episcopal School
CES has a long tradition of service. Service joins academics and character as one of the three hallmarks of a Christ Episcopal School education.
Service learning connects school-based learning with the natural concern that young people have for their world - whether here at CES, in our local community, or far from our school campus. The results are lifelong lessons for students and providing true help where a problem exists.
At CES, this learning combined with service efforts is accomplished through our daily chapel program, through school-wide involvement, and through classroom based activities.
Every school year, each class takes charge of a service learning activity.
Recent projects include:
School-wide holiday meal and gift baskets for Community Reach of Montgomery County
Grade 1 bake sale fundraiser for American Humane
Preschool blessing bags for homeless
Grade 1 and Grade 5 Chapel Partners thank you bags for local police officers
Grade 2 Keychain Sale and Thanksgiving meal purchase for shelter residents
Grade 4 Chores for Charity fundraiser that went towards animal shelters in the area.
Grade 3 Operation Christmas Child gift boxes for children overseas
Grade 6 South Sudan well project (details below)
CES Class of 2020 raises $15,000 to build a well in South Sudan!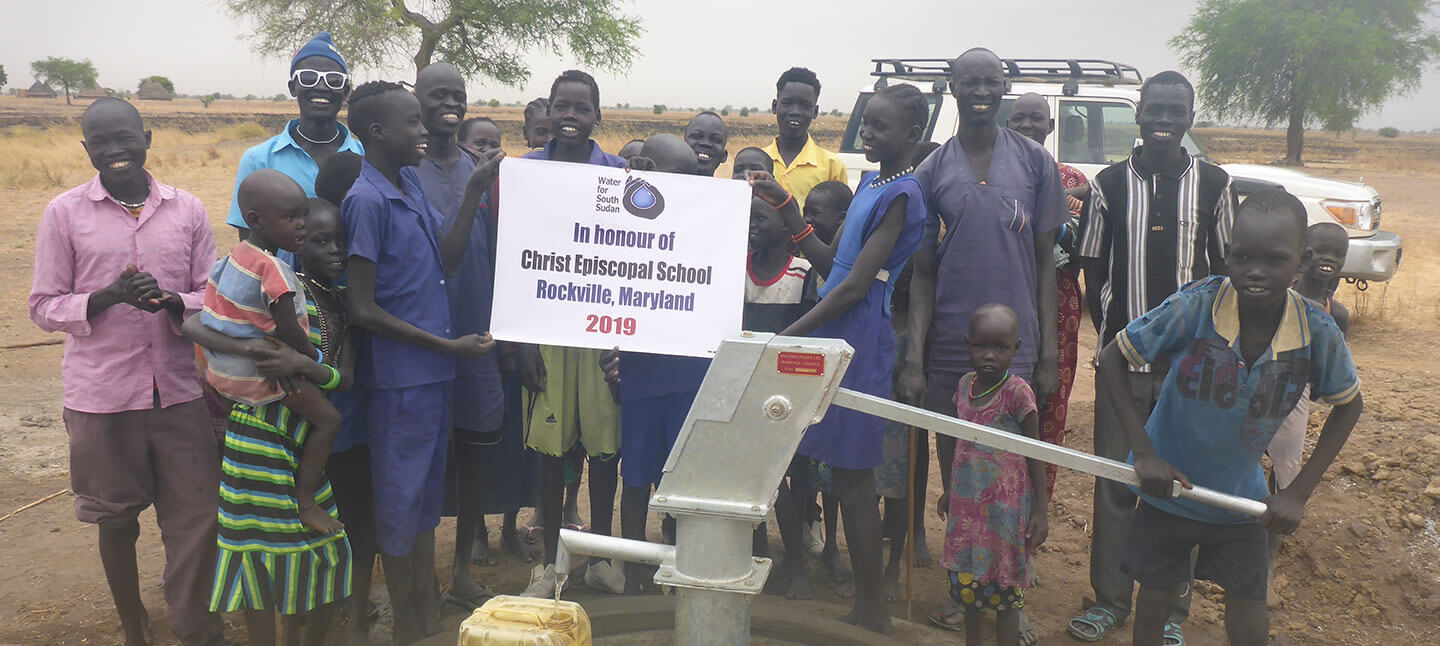 In 2018, the 6th grade class at Christ Episcopal School was inspired after reading the novel, A Long Walk to Water by Linda Sue Park.  The novel portrayed the true story of Salva Dut, a Sudanese lost boy, who faced extreme challenges as he fled civil conflict in his South Sudanese village.  A key idea in the novel was the parallel story of Nya, a girl who walked miles daily to get dirty water for her family. 
The CES 6th graders began a three-month campaign to raise money for Water for South Sudan, the non-profit created by Salva Dut, in the hopes of co-sponsoring a well in South Sudan.  To achieve this goal, they needed to raise $5000.  The class was highly motivated and leveraged social media to help their cause, in addition to marketing throughout the school and church community.  They even created fundraising bracelets, purchased with their own money, to advertise the campaign.  The project soon exceeded expectations.  By April, 2018, the students had raised over $15,000 from both the CES community and their extended network.  This meant that the school would get its own well built instead of co-sponsoring with several other schools.  In February, 2019, we received word that our well had been built!  Pictures of the well were also sent, with the Adot village waving their thanks and holding a sign recognizing Christ Episcopal School's sponsorship.  
Our students are truly overwhelmed with what they have achieved.  They have thrown their hearts into this project, feeling a strong connection with the plight of these people.  The generosity of the community has left a lasting legacy for the school and these children, one that is bound to create positive change in their future lives.  They have truly embraced the spirit of our motto, "Minds to Learn, Hearts to Love, and Hands to Serve."