Coffee Catch Up with Mrs. Stone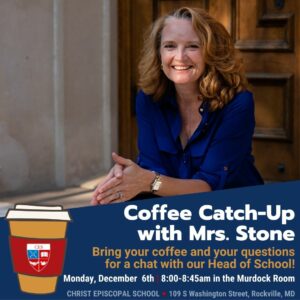 Do you have questions about the school year so far? Anything you'd like to ask our Head of School? Bring a hot beverage and join us on Monday, December 6 at 8:00am for the next session of our Coffee Catch Ups with Mrs. Stone! There will be a brief presentation and time for Q&A. This is a great opportunity to better get to know Mrs. Stone!
A live stream will be available for parents to view remotely.